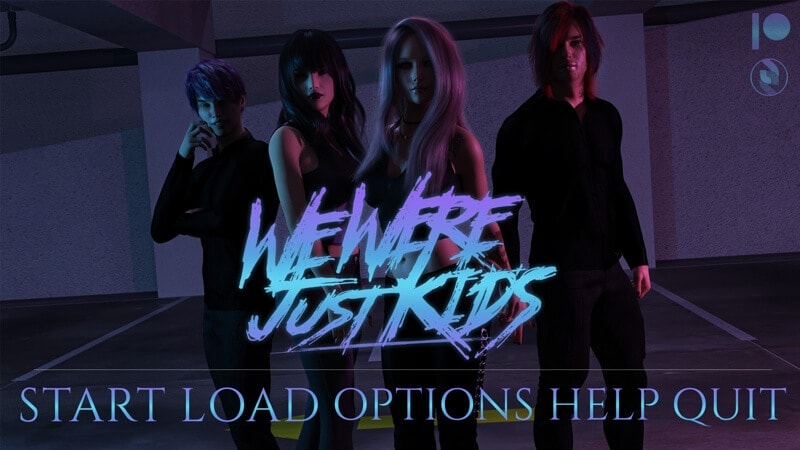 Information
Name
: We Were Just Kids
Fetishes
: Male protagonist, Female protagonist, Big ass, Creampie, Exhibitionism, Lesbian, Oral sex, Voyeurism, Big tits, Romance, Vaginal sex
Version
: 0.3b -
Download Android version 0.3b from AdultAPK.com for free!
Censorship
: No
Last updated
: 4 March 2023
Language
: English
Size
: 1,75 GB 7Z 
About game
Our Protagonist (Rainn Nichols) has just moved to New York with her mother after her father vanished into thin air. Left with little more than a paycheck to live on and a broken down truck to move them around, our protagonist is uprooted from her home and now ex-boyfriend, forced to live in a motel on the wrong side of the Big Apple. This is where she meets our other protagonist (Logan Knox), the red-haired guitarist and founding member of the virtually unknown instrumental metalcore band, We Were Just Kids. Made up of himself, bassist Jason Butler, and drummer Reagan Lee. What begins as our protagonist joining the band on the fly for a school talent show swiftly evolves into the quartet being thrusted into a spotlight of sex , drugs, music, fame, love, and perhaps death.

Not everything is as it seems on the surface. The corruption of music, the lack of balance in the industry's power dynamic, and the temptations of stardom all test the unity of the band as past relationships come back to haunt our protagonists. Can they handle the heat of the spotlight, or the pressure of sudden fame? Can our protagonists operate through the weeds? Or will they crumble like the many before them?



Changelog
- There's 205 or so updated/upgraded renders here. Including new animations for all of the sex scenes. Further on the note of animations, some may be a bit wonky, as I've been experimenting with keyframes and speeds between them in regard to sex. You'll probably notice a bit of it in the Lukas/Veronica bathroom blowjob bathroom scene and/or the facial portion of it. All that said, I feel like I've got a stronger hold on animations because of it. I don't expect those kinds of issues to show up in any other release. Funny enough, this segues perfectly into the next point quite well:
- I've come across a way to turn Camera Raw/XMP files into LUTs for Premiere. This will result in less of a noticeable color shift between animations and still renders pre and post-animation. There's still going to be a bit of it due to color space differences (I believe, could've easily changed in newer version of Ren'py.), but it should be far less noticeable in the early scenes.
- Code is now to my liking. This should be the final forced restart going forward, short of the unlikely event that something essential needs to be changed.
- The Sports bar scene with Lukas/Veronica is now entirely skippable with all but two questions needing to be answered. I've gone over it before, but it was a bad writing choice that's too late to fix at this point. So, breaking the fourth wall or not, at least you have the option to never see it again. The option to skip oral sex (unless you pull out) can be avoided, as well.
- The Logan Intro scene early on has been updated with a couple of extra renders, and sprinkle of foreshadowing.
- Park scene with Rainn/FMC and Reagan has been somewhat rewritten and shortened. Plays on the same sub/dom tendencies as the original, but is largely more of a small infodump for Reagan. I am aware of the render dimension issue at the end of the scene, will be fixed in the next update.

As said at the end of the update, I'll be taking a short break to finish up Move The Chains and get it out, then I'll decide on a schedule between both VNs.
Game Images