Masters of Raana - Version 0.7.9.4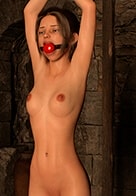 Information
Name: Masters of Raana
Fetishes: Male protagonist, Sci-Fi, Fantasy, Adventure, BDSM, Anal sex, Oral sex, Vaginal sex, Creampie, Male domination, Rape, Management, Spanking, Sex toys, Romance
Version: 0.7.9.4
Censorship: No
Last updated: 10 June 2022
Language: English
Size: 443 MB 7Z
About game
The city of Ikaanos is an abandoned colony on the densely forested planet of Raana. After a sudden separation from Earth, Ikaanos became a cauldron of despair and violence that forced almost half of its human population into slavery. Today, two brutal centuries later, feudal-like kingdoms fight among themselves over power and influence, when they're not busy dealing with the planet's dangerous megafauna.



Changelog
Save patcher required: No.

Lake Bikini
Nika's Clothing store now offers a ''Lake Bikini set'' that was made popular by Golden Dragon's own Leslie Winnipeg earlier in the spring.

Garden tools
You're now able to boost your garden's income with a set of tools that you can purchase at Roo's General Store in Redhaven.

Art
• Added 14 sex scenes for Michelle (cunnilingus, blowfinger, forced, missionary, cum events).
• Added 14 sex scenes for Piper (various).
• Added 3 sex scenes for Lovisa (replaced pleading, holdcum and missionready).
• Added 10 wardrobe pics of Lake Bikini (All existing slaves).

Bug fixes
• Fixed a bug that would display a female mercenary's aversion toward sexual slavery during parties, even if that female merc wasn't invited.
• Fixed a bug that would display a an extra < > during some events.
• Fixed a rare bug that wouldn't provide the right melee damage bonus to slaves fighting with light weapons.
• Fixed a bug that wouldn't give back an Eden gown if you freed a slave that was wearing it and telling her to leave your household naked.
Game Images