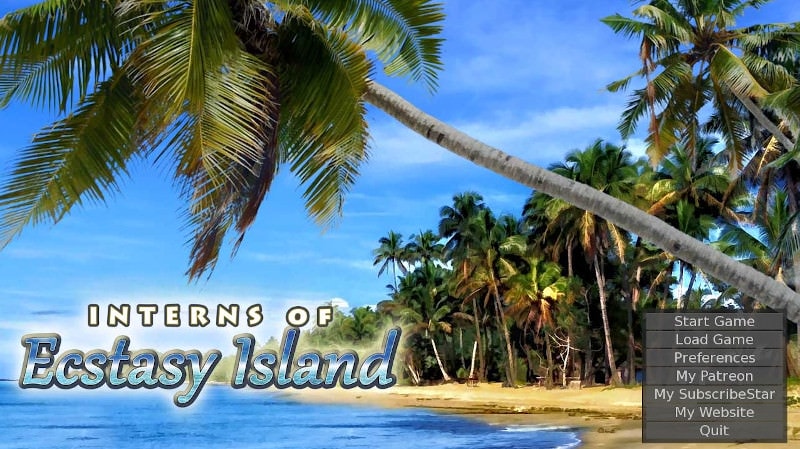 Information
Name
: Interns Of Ecstasy Island
Fetishes
: Male protagonist, Female protagonist, Lesbian, Masturbation, Oral sex, Handjob, Group sex, Futa, Vaginal sex, Big tits
Version
: 0.342 -
Download Android version 0.342 from AdultAPK.com for free!
Censorship
: No
Last updated
: 31 October 2022
Language
: English
Size
: 255 MB 7Z
About game
Interns of Ecstasy Island is going to be an erotic visual novel featuring random events and some roleplay elements. The story includes body/gender transformation, mind control and also sex. There's probably going to be sex it the game. Definitely. (Eventually) Like most visual novels, the game will present a branching story with accompanying graphics, and allow the player to make choices for their character at various points. In addition, I plan to include random events and encounters. It's a completely different game every time you play! The game won't change radically, but the order of events will should change each time you play, with certain events only happening by chance, or others dependent on things you've done and things that have been done to you.



Changelog
Bugfix: Blonde May Housekeeping event has been properly defined as an event class object (should fix an error).
Bugfix: Set flag for meeting Scarlet in a few events where it was missing.
Bugfix: Error in tracking PC's drinking in the intro has been fixed.
Bugfix: Addressed error preventing PC from seeing Brooke in the club on Day 1.
Bugfix: Addressed variable issues with meeting NPCs on Day 1.
Bugfix: Addressed multiple variable issues regarding PC showing interest in Chastity on Day 1.
Bugfix: Fixed issue with gender identity shift event not firing on Day 3.
Bugfix: Gabby commenting on the PC being [REDACTED] event now only fires on the day it happened.
Bugfix: Beach party event is currently blocked if you've tried to betray May (since she's at that event).
Typos: Added missing capitalization to "Holly/The Doctor" name interpolation.
Misc typo corrections.
Scenes added:
Holly sex sceneRoom bed masturbation sceneLesbian guest approach / sex scenePC learns new uses for washing machinesGuest sex scene by ThuleSlight expansion to ending of Cynthia shower sceneMisc room and shower scenes

Technical changes:
Updated Ren'Py engine to v8.0.1 – First build to use Python 3.Partial build/update of guest approach to bring it up to current scene-picker standard.Messages reminding player about special free-time activities has been added to the new schedule system.May scene backgrounds now change according to time of day.Bugfix: Checks for the option to visit May's room have been restored.Bugfix: Code for May room visits has been updated to work with new schedule system.Bugfix: Attempted to fix the Holly name interpolation typo.Bugfix: Meeting Brooke at hot tub party checked properly.Bugfix: Stopped "return to room" message for displaying when PC is already in the room.Bugfix: Mr. Smith scene should now detect and reflect if you're working restaurant or housekeeping.

Known issues:
UI alignment problems with latest version of Ren'Py.New Holly sex scene is unavailable if you've already saw the previous one.Holly storyline progression is bugged (she keeps asking to run tests).Room messages can appear interrupt scenes.
Game Images