Horton Bay Stories - Jake - Version 0.1.1a Hotfix + compressed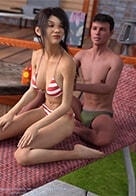 Information
Name: Horton Bay Stories - Jake
Fetishes: Male protagonist, Animated, Anal sex, Blackmail, Cheating, Corruption, Creampie, Exhibitionism, Footjob, Group sex, Groping, Handjob, Harem, Lesbian, Masturbation, NTR, Oral sex, Rape, Teasing, Titjob, Vaginal sex, Voyeurism, School setting, Milf, Dating sim
Version: 0.1.1a Hotfix + compressed 
Censorship: No
Last updated: 12 September 2021
Language: English
Size: 2,85 GB 7Z
Size compressed
: 686 MB 7Z
About game
Welcome to our first game set in the town of Horton Bay! Our main character, Jake (or nickname of your choosing) Rogers, finds himself at the end of his final school year and ready to head off to his local university along with his long term girlfriend and best mate. That is until everything gets turned on it's head and forces him to change his plans! Now with seemingly few options, he decides to travel to the other side of the country to the coastal town of Horton Bay, where he can start fresh and try to rebuild a new life for himself!
About compressed version
We used some strong tools, so quality of compressed files may be lower than the original. Also we used some 
webp codec
and 
webm directshow filters
you may have to download and install. 
We recommend to download full version to get 100% of game experience.
Changelog
Stops endless loops and/or crashes when using the skip function.
Game Images