Project Myriam - Life and Explorations - Chapter 3 - Version 0.1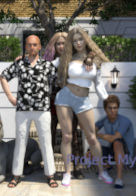 Information
Name: Project Myriam - Life and Explorations
Fetishes: Female protagonist, Anal sex, Exhibitionism, Groping, Handjob, Humiliation, Male domination, Masturbation, Oral sex, Voyeurism
Version: Chapter 3 - Version 0.1
Censorship: No
Last updated: 24 December 2021
Size: 2,29 GB 7Z
About game
You guide Myriam, wife and mother, as her life change in a new city and she find herself pushed out of a sheltered life, will she find embrass her new found independance or will she slip back in the confort of a subservient life; will she venture forth and explore her repress desires and the opportunities that open up to her or will she let herself be submerged by life; will she follow the advice of good people or be manipulate by evil ones; and of all those weird events that she will fall upon... You decide.



Changelog
Ch.2 v0.8
Here what's new:
- Around a 3200+ lines of code and 249 new renders.
- 4 scenes (with lots of subscenes and 4 potential naughty scenes).
- 1 new character introduced (well not really new, she was glimpsed in chapter 1).
- Around 16 new choices to make Myriam more your own and write her story.
- Some more naughty content.
Game Images