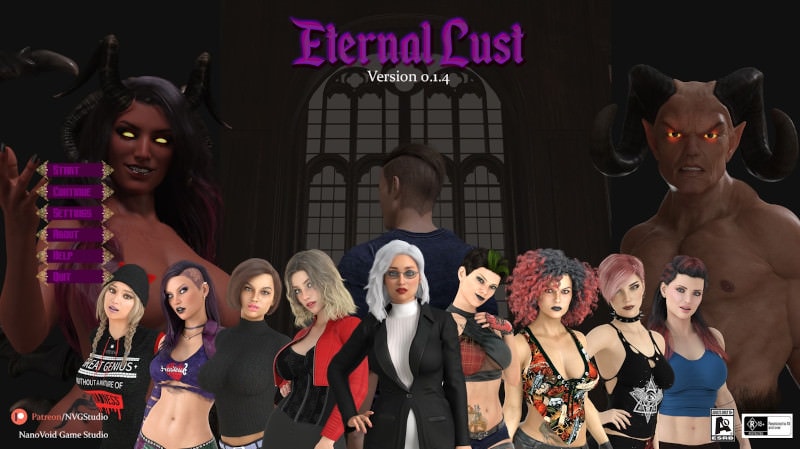 Information
Name: Eternal Lust
Fetishes: Male protagonist, Monster girl, Corruption, Interracial, Milf, Romantic, Lesbian, Dating sim, Anal sex, Vaginal sex, Animated, Creampie, Rape, Big tits, Oral sex
Version: 0.2.2
Censorship: No
Last updated: 18 July 2021
Language: English
Size: 1,02 GB 7Z
About game
Eternal Lust is an adult visual novel game. You'll be playing the role of a college student and live a normal life. Guide him in which path should he take, good or evil. You will encounter numerous hot chicks on this journey. Make them fall in love with you, or corrupt them and lead them to their submission or even mind break, the choices are in your hand. Plus, there will be no GAME OVER. Life is a bitch, so deal with it. Different endings for every decision you have made, so choose wisely.
About compressed version
We used some strong tools, so quality of compressed files may be lower than the original. Also we used some 
webp codec
and 
webm directshow filters
you may have to download and install. 
We recommend to download full version to get 100% of game experience.
Changelog
- Relax at the pool with Alex and Chloe
- Day 7 Morning ( Home, Pool )

- Make up with Nadia ( If you messed up during your stay with Nadia at the spa. )
- Day 7 Noon ( Home, Living room, TV )

- Chat with Nadia at bar
- Day 7 Night ( Slum district, Bar )

- Hot scenes if you wanna romance her
- Day 8 Early morning (Continuation from Chat with Nadia event )

- Photographer wanted ( Eleanor's path )
- Day 8 Morning ( Uptown, Eleanor's store )

- Cassie's confession
- Day 8 Night ( Home, MC's room )

- Workout with Alex
- Day 9 Morning ( Home, Kitchen, Kitchen table )

- Cindy sleeps on the sofa
- Day 9 Night ( Home, Living room )
- Must counter Cassie's confession event first

- Check on Cindy
- Day 10 Morning ( Home, Cindy's room )
- Must carry her from the sofa to her bed. ( Previous event )

- Jogging with Rita
- Day 10 Morning ( Home, Rita's room )
- Must do yoga class with Rita at least 3 times ( Speak with her at the evening to do the yoga class )

- Lunch date with Cindy
- Day 10 Noon ( Downtown, Firm, Cindy's office )
- Must ask her out after you check on her.

- Trisha's project first phase
- Day 11 Noon ( College, College lab, Chat with her )
- Must help her at least 3 times ( You can do so by helping her at noon @ evening )

- Zoe's birthday surprise
- Day 11 Evening ( Uptown, College )
- Do it after encountered Trisha's event from before

- Mystery call
- Day 12 Noon ( Home, MC's room )

- Zoe's birthday party
- Day 12 Night ( Uptown, Band Hangout, Hangout with them )

- Lilith give another potion
- Day 13 Night ( Home, Bed, Go meet her )
- This event has 2 path. Love and lust. If you wanna romance her, you have to make sure you give your soul to her during the potion of lust event. If not, it will automatically trigger the lust path.

- Frost's secret
- Day 15 Morning ( College, Frost's office )

- Rita's planned wedding
- Day 16 Evening ( Home, Rita's room )

Improvement
- Inhibition points has been changed from 100 => 10 - Map UI has been updated in some places
- All images has been compressed by me. Except videos.
- Fixed previous bugs and errors (Let me know if there's more)

Content
- 479 new rendered UHD images (1319 UHD still images )
Game Images