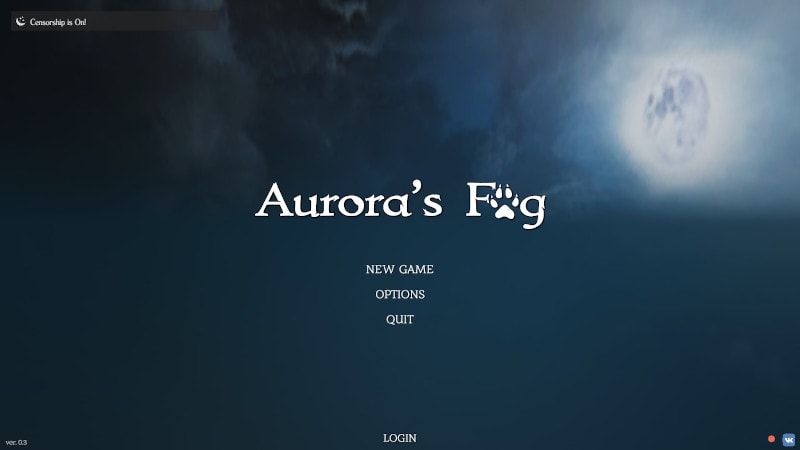 Information
Name: Aurora's Fog
Fetishes: Male protagonist, Fantasy, Dating sim, Furry, Hentai, Romance, Monster girl, Oral sex, Vaginal sex, Masturbation
Version: 0.5
Censorship: No
Last updated: 28 November 2021
Language: English
Size: 1,74 GB 7Z 
About game
Aurora's Fog is an adult RPG game with unique story, interesting gameplay features and plenty of adult content. The game takes place in the Kingdom Aurora in a parallel Universe. In this Kingdom live inhabitants of different races, each of which has its own work, interests and character. The main character accidentally gets into the fog from which he can't get out and loses consciousness. He wakes up in the hospital of a Kingdom called Aurora. From this point on, your unique story begins, which will be formed depending on your actions and your choices.



Changelog
Main changes and improvements compared to the outdated (0.33) version:
Optimization
Optimization has been taken to a new level. On average, fps was increased by 1.5 times, and in houses where there are even fewer objects by 2. A huge number of additional settings have also been added and graphics presets have been updated, which allows you to run the game on weaker PCs.
Replayability
Added new options for passing and completing quests. So in the quest "Yotra's Little Problems" the player can solve one of the five problems of Yotra, it all depends only on your build and style of play.
Saves System
Saves have been added to the game so that you don't lose your progress between game sessions. It can also save your progress in case of character death, the main thing is not to forget to save :)
Combat System
In one of the quests you have to fight with a bunch of young wolves who attacked the caravan of Malagdaer and show them who is in charge. The main thing is not to forget to press F5 before the battle, otherwise the developer is not responsible for the lost progress :D
And what else?
As well as 9 quests and perks, 11 recipes, a bunch of new dialogues and 7 poses...
Game Images