Tamara Exposed - Version 0.6 The Next Chapter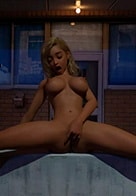 Information
Name: Tamara Exposed
Fetishes: Female protagonist, Animated, Corruption, Exhibitionism, Handjob, Oral sex, Sex toys, Teasing, Group sex, Anal sex, Vaginal sex, BDSM, Groping, Blackmail, Rape
Version: 0.6 The Next Chapter
Censorship: No
Last updated: 18 May 2023
Language: English
Size: 814 MB 7Z
About game
Tamara accidentally exposed herself naked in public which led to an addiction to do it all the time. She and her friends have lots of fun. Please play "The Beginning" first for the story to make sense.



Changelog
In order to follow the whole Tamara story start with "Tamara Exposed - The Beginning v1.0". This version is now complete.

"Tamara Exposed - The next Chapter" carries on with that story. The current public version is 0.5. Patreon and Subscribestar are at 0.6

"Tamara Exposed - Chapter 2" has been replaced by "The Next Chapter". It is still worth playing as there are a lot of short stories I have done differently in the replacement.
Game Images