Glassix - Version 0.62.0 + compressed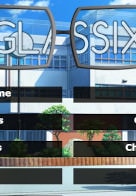 Information
Name: Glassix
Fetishes: Male protagonist, Mind control, Handjob, Footjob, Futa, Group sex, Vaginal sex, Oral sex, Anal sex, Voyeurism, Exhibitionism, Incest, Milf, BDSM, Female domination, Masturbation, School setting
Version: 0.62.0 + compressed
Censorship: No
Last updated: 20 July 2021
Language: English, French, Russian, Polish, Chinese 
Size: 5,86 GB 7Z
Size compressed
: - GB 7Z
About game
It's a trainer game as well where you play as a teenager who lives with his step-mom and sister/step-sister and just moved to a new town after your father passes away. One day on your way to school, you hear your father and find these glasses that make people more influenced by your suggestions and you can use it to slowly corrupt the women around you. There are Cheats as well. The developer made it where you can increase the girls obedience/affection levels by left clicking on the stat you wish to add more too on the stat page for each girl individually. The game is 100% free from the creator's Patreon. I just upload here to spread the word about it. It's a fun game.
About compressed version
We used some strong tools, so quality of compressed files may be lower than the original. Also we used some 
webp codec
and 
webm directshow filters
you may have to download and install. 
We recommend to download full version to get 100% of game experience.
Changelog
Emika level 4
Emika good and bad endings
Possession events for Rin, Ayumi and Hikari
French translation updated by CarpeNoctem (Thanks!)
Game Images