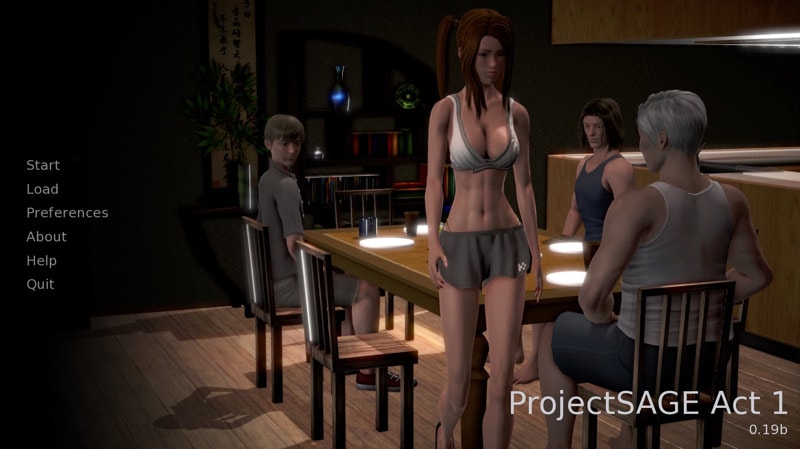 Information
Name
: Project SAGE - Act 1
Fetishes
: Female protagonist, Exhibitionism, Romance, Cheating, Blackmail, Corruption, Big tits, Oral sex, Vaginal sex, Anal sex, Group sex, Voyeurism, Interracial, NTR 
Version
: 0.19c + compressed + 0.19c 
update only
(ProjectSAGEAct1-0.19c-pc_update.zip, for version 0.18c+)
+ Download update from version 0.19c to 0.19d for free!
Censorship
: No
Last updated
: 15 February 2020
Language
: English
Size
: 4,39 GB 7Z 
Size compressed
: 2,94 GB 7Z
About game
The story is about an independent young girl who decides to move to another country to start a new life after losing her family. Slowly, she discovers herself, her heritage and her destiny. 
About compressed version
We used some strong tools, so quality of compressed files may be lower than the original. Also we used some 
webp codec
and 
webm directshow filters
you may have to download and install. 
We recommend to download full version to get 100% of game experience.
Changelog
- More than 4000 images
- The game now has about 450000 words of dialogue (more than 55000 in the last update)
- Day 15 added

Scenes
- Morning event with Hank
- Morning events - The breakfast event has a branch based on your choice in V18 (white tights)
- A very short event at the supermarket as a prep for the event at v20
- School clubroom events - There are 5 branches depending on your previous choices
- Cafe event
- RPG event
- Night event with Luckbullguy from SixHotDates
Game Images