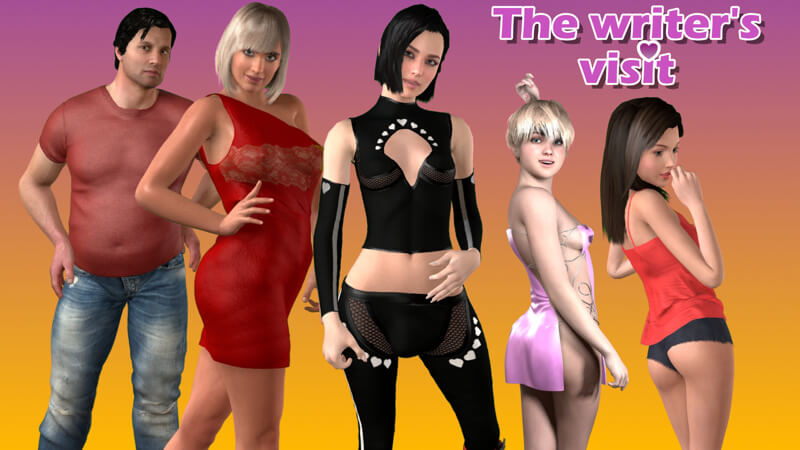 Information
Name: The Writer's Visit
Fetishes: Futa, Animated, Anal sex, Corruption, Creampie, Gay, Group sex, Handjob, Milf, Masturbation, Oral sex, Vaginal sex
Version: 4.0
Censorship: No
Last updated: 8 March 2023
Language: English, Spanish
Size: 3,09 GB 7Z
About game
Samy (or whatever name the player decides), is a famous writer of erotic novels, she takes a vacation to go visit her brother, who she hasn't seen for years, and to meet his family. This is where the story begins, she will meet her sister-in-law and nephews, and more characters that will enter the story. It is a linear novel, there are some choices but they do not change the story. The story is divided into chapters, it is a visual porn novel, so in each chapter there will be at least one animation with sexual content. 



Changelog
Last chapters of The writer's visit!
With these two chapters, we put an end to the story of the writer, two chapters full of sex and hot dialogues!
What bring these last chapters, 39 and 40:

- More than 400 new renders!
- 140 new animations!
- Several choices in scenes!
- The whole game translated by MJB, a flawless translation into English!
- Up to 7 new sex scenes in these last two chapters!
- Normal, compressed and android version!
- Minor bug fixes!

The visit of the writer is complete with:
- More than 2600 renders!
- About 980 animations!
- The whole game translated and corrected by MJB! Thank you very much for your perfect work! He has not only translated the game, but also enriched it with improved dialogues! I have learned a lot with your translation!
Game Images