Hounds of The Meteor - Version 20210727 Uncensor + Cheats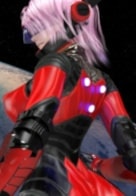 Information
Name: Hounds of The Meteor
Fetishes: Female protagonist, Vaginal sex, Anal sex, Big ass, Big tits
Version: 20210727 Uncensor + Cheats
Censorship: No
Last updated: 27 July 2021
Language: English
Size: 1,72 GB 7Z
About game
"Hounds of the Meteor" is under development. We aim to create a game that combines both side-scrolling action and command-selection-type adventures, with both gameplay and eroticism. The direction of eroticism is "fighting heroine's insult/different sex".
F1 to get full hp (if full make you die)
F2 get more estrus
F3 get less estrus
F4 Suicide
F5 Take damage
F6 to cycle the suit damage status
F7 to get 1k money
F8 to get 1k exp
changed "ESC" to "CTRL-Q" to exit the game
Changelog
Update contents
There are two updates this time.

The first point is a continuation after the last defeat of Uva.
You can see more if you defeat the creature Uva.

This is the second erotic scene, but please win the battle after being vaginal cum shot by creature Uva.
After that, if you rest for a few days in the room, an erotic event will occur.
Game Images