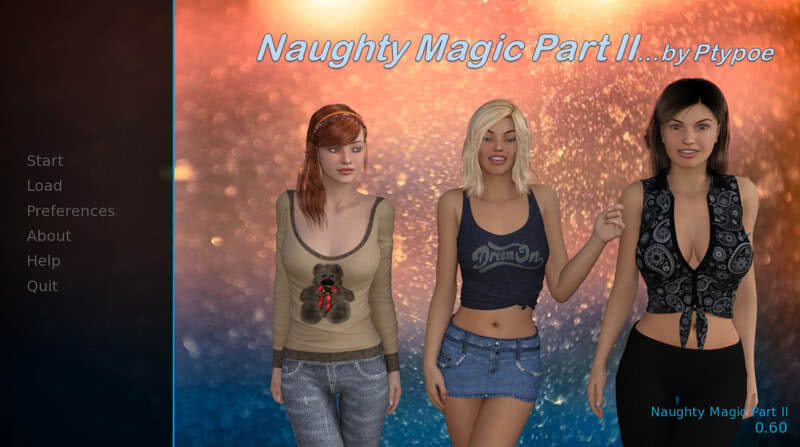 Information
Name: Naughty Magic (Part 2)
Fetishes: Male protagonist, Corruption, Paranormal, Milf, Mind control, Oral sex, Vaginal sex, Sex toys, Group sex, Lesbian, Titfuck, Masturbation 
Version: 0.80 + compressed
Censorship: No
Last updated: 23 October 2020
Language: English
Size: 1,78 GB 7Z
Size compressed: 944 MB 7Z 
About game
Starting college in another state can be a problem. That is unless you have a really good family friend in that town, who can give you a place to stay. And if that family friend is female, gorgeous, and with two sexy daughters, so much the better! So here you are, enough male hormones to power a small space-going vessel and living with three beautiful women. Life is "interesting'. Now let's add some magic to the mix, then stir and see what happens. Will you fulfill your sexual dreams, or will you be thrown out of the house? Play Naughty Magic and find out.
About compressed version
We used some strong tools, so quality of compressed files may be lower than the original. Also we used some 
webp codec
and 
webm directshow filters
you may have to download and install. 
We recommend to download full version to get 100% of game experience.
Changelog
Need to start new game
Part 2 Content starts at beginning.
Version 0.5 close to 50,000 new words and over 500 new images.
Game Images