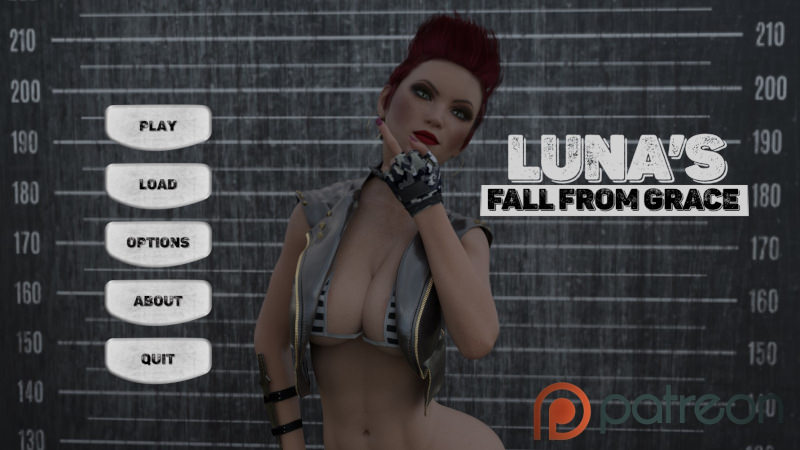 Luna's fall from grace - Chapter 2 - Version 0.32
Information
Name
: Luna's fall from grace
Fetishes
: Female protagonist, BDSM, Big ass, Big tits, Blackmail, Corruption, Female domination, Groping, Group sex, Handjob, Lesbian, Male domination, Oral sex, Romance, Vaginal sex, Voyeurism
Version
: Chapter 1 - 0.25 -
Download Android version 0.25 from AdultAPK.com for free!
Chapter 2 - 0.32
Censorship
: No
Last updated
: 20 February 2023
Language
: English
Size ch1
: 1,22 GB 7Z
Size ch2: 3,34 GB 7Z
About game
The visual novel is set in a dystopian alternate reality in which most nations are ruled by unelected bureaucrats while the government's political power is extremely limited. In particular, the game takes place in Santa Rita, a city suffocated by corruption and ruled by the mob. You play as Luna, a young woman with a murky past whose life is turned upside down when her father dies and she discovers her old man was engaged in some very shady business. Even worse, Luna finds out that her father has made a lot of enemies over the years. Those people seem to hold a deep grudge against her father...and against his family in general.They want payback. They want blood. Her blood. Aided by the mysterious Mr. Cavalcanti, a friend of her father, Luna leaves Santa Rita, her hometown – she flees her home to save her life.



Changelog
1 scene - sub route (Madame)
1 scene - hero route (Shaman)
1 scene - Badass route (Ogre and friends turned into zombies - Avoidable)

1 scene (Nancy - Avoidable)
1 scene (Natasha) - Only if Luna asked for Natasha's help to kill Sam in chapter 1.
1 scene (Headshot - Avoidable)
Access points/ Requirments for the "crazy" options.

Sub - Only available if Luna is not addicted to the Nectar.
Hero - Only available if Luna decided to meet with the Shaman.
Badass - Only available if the Sons betrayed Luna.
Luna must be "mildly insane".*

*Since you can't really play this route otherwise, I temporarily added a "cheat" to increase Luna's madness.

At some point the game will ask you if you want to make Luna crazier.

Badass route: just after the photo shoot.
Hero route: After meeting with John for the first time or after having sex with Emma.
Sub route: After the photo shoot with Paulie/the twins.
Game Images