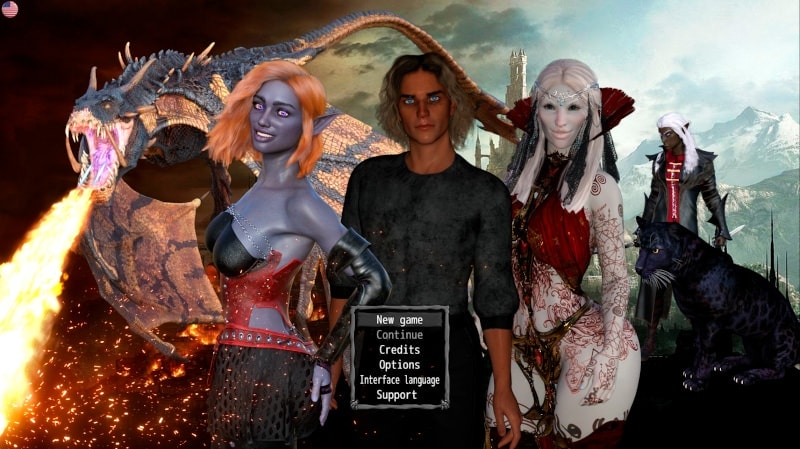 Information
Name: Jack big adventure
Fetishes: Male protagonist, Adventure, Fantasy, Big tits, Masturbation, Monster girl, Anal sex, BDSM, Group sex, Handjob, Incest, Interracial, Lesbian, Oral sex, Vaginal sex, Voyeurism, Milf, Female domination, Male domination, Corruption
Version: 0.5.1
Censorship: No
Last updated: 17 November 2020
Language: English, Russian
Size: 2,17 GB 7Z
About game
Jack is a 24-year-old guy. Jack lives with his mother and two sisters. At the age of 25, every man is required to join the Royal army. It's the law. He can't leave his family because of their poverty. From an early age, he hunts animals to sell them at the fair. Jack's family survives on the income from hunting. Jack lives on a small farm. Twenty years ago, his mother had left the Kingdom's capital and settled in the wilderness. He doesn't know why his mother decided to leave the Royal city. However, he suspected that it was all because of his father. Jack didn't know anything about his father.
Changelog
New character:
Adela - a dwarf girl who wants to restore the honor of the family name.
Kitty – furry\cat girl, loves fresh milk.)
Sex events:
Adela + Jack (foot fetish, blow job);
Adela + Rozi + Jack – threesome (vaginal sex, virgins, cum licking (girls), cum eating (girls), impregnation);
Kathy + Jack (sex with a pregnant woman);
Lily +Jack+D (sex with a pregnant woman, cuckold (D), cum eating (D - optionally);
Kitty + Jack (blow job, vaginal sex, impregnation);
Kitty + Jack + Kathy (threesome, sex with a pregnant woman, sucking fresh milk from the breast of a pregnant woman.);
Ragor (girl) – (transformation, Blowjob).
Important changes in the game:
1. Now you can hide the text when viewing events by pressing the left Ctrl;
2. Gallery - you can get there by using the item, which you can read about below. You can now view alternative scenes in the gallery. For example, if you select the path of Jack - in the gallery, you can view the path D. Due to the fact that this is a new mechanic, if you play with the old save games found in the gallery of some of the scenes may not be displayed;
3. Event captions (experimental feature). Over some events, there are inscriptions to simplify your life in the game. However, they have an unpleasant feature - they are visible in scenes... You can disable them using a special item that you can buy from Silvana. Before scenes, it is advisable to disable them, then you can enable them... In the main XXX scenes, they are disabled automatically;
4. In the main XXX scenes, fixed issues when changing the image - the map was visible. This has now been fixed, but in normal dialogs it remains... This is because of the engine features...
New important items (you will learn the name in the game (Easter eggs):
Sold at Silvana's for 1 gold
1. - you can use it to rewind time;
2. - getting into the gallery;
3. - the switching characteristics of the character;
4. - the switching the clock indicator on and off;
5. - switching on and off of the names of the events;
Edit characters:
Melissa - we have received complaints about not being able to pass the demons.
Melissa added defense, magic defense, and evasion.
Some advice for tactics of fight with demons-purchase of potions HP, Jack acts as healing, Melissa has 2 points of attack-use 1 to go on the defensive, and 2 to attack her skill. Jack can heal her with potions, resurrect her, and replenish MP and TP...

Some bugs were also fixed, and of course new ones were added.))) We are waiting for a report on new bugs, as they were not detected during our verification process...
Game Images