Defending Lydia Collier - Version 0.9.1.1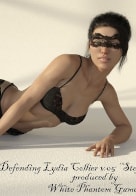 Information
Name: Defending Lydia Collier
Fetishes: Male protagonist, Masturbation, Oral sex, Vaginal sex, Groping, Male domination, Sex toys, Spanking, Lesbian
Version: 0.9.1.1
Censorship: No
Last updated: 5 April 2021
Language: English
Size: 833 MB 7Z 
About game
The story of a London-based lawyer called in to defend the wife of one of the city's most influential and wealthy businessmen who has recently disappeared. You'll be with the defendant during police interviews through to the trial in court, working to review evidence and help build her case. Along the way you'll meet various other characters and experience the life of a currently single wealthy London lawyer. Whether your fresh out of school assistant or a local police officer catches your eye, you'll be able to decide who you wish to interact with and choose to pursue romantically. This game will contain swearing, nudity and adult scenes.
Changelog
Fixed StephNumber flag capitalisation creating two different variables.
Changed variable so Steph should now correctly recognise you after the lunch trip on Day 1.
Fixed inconsistencies in Yennifer's and Lydia's stories, they now should report the same way of getting home.
Fixed typo with an image not displaying in the Day 4 Steph date, image should now display correctly.
Fixed Mayor/Vanessa image being the wrong size in the Day 10 news article.
Fixed the wrong style with the Ellie/Tanya Whistle conversation, making a message appear to come from the wrong person.
Fixed exit button on Whistle Desktop not closing the "about section" unless you opened another chat.

Replaced the .mkv Ellie Animation with a higher quality .webm one.
Game Images