Long Story Short - Version 0.8 Alpha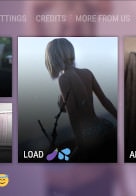 Information
Name
: Long Story Short
Fetishes
: Male protagonist, Romance, Corruption, Cheating, Masturbation, Voyeurism, Oral sex, Voyeurism, Lesbian, Group sex
Version
: 0.8 Alpha -
Download Android version 0.6 from AdultAPK.com for free!
Censorship
: No
Last updated
: 11 June 2022
Language
: English
Size
: 1,09 GB 7Z
About game
You will be playing as a guy, who's never really clicked with girls too much. You'd much rather spend your time on the computer than dealing with real-life relationships. However, It'll all quickly start to change shortly after diving into the story. Your best friend, Joe, has made a significant change in his life, and he is there to pull you out of your comfort zone into a new lifestyle. Vanessa, Joe's girlfriend, and Ann, her shy friend, are just two of the girls you'll encounter early on in the story. Are you going to build a relationship with sweet, shy, Ann? Maybe you'd corrupt her instead? Heck, why not try to steal Vanessa away from Joe?



Changelog
Bug fixes
Fixed - when clicking right click when on the settings screen before starting a game, causes a black screen.
Fixed - When you liked or commented on an image with additional images, it would jump back to the start.
Fixed - On V0.7 Ann's house scene, wrong renders were shown (Ann with outfit instead of normal clothes).
Fixed - A small jump (in resolution) that had occurred when an animation started playing
Changes
*Important* - Some people have their saves in the wrong folder path. When starting the new alpha, the old saves will be moved to the correct folder. If you then try to load the old version (V0.7) your saves will be empty. unless you copy them manually to the old path (find it by clicking alt and "Open saves folder")
Lowered the requirements in order to have Ann trying out the outfit on the love path.
Clicking on the load save header will now allow Jump to page.
New Folder mechanism - Will allow you to open a category with your chosen name and save the game to that specific folder. Old saves will be in "Default"
Added small animation at the start of the game when Vanessa comes to visit (crossing her legs)
Added new reward animation for the coffee shop - blackmail scene - it was previously a single render.
Rerendered the images Joey shows you on his phone before meeting Vanessa
Rerendered the first meeting with Ann at the library
Changed the game's font to a newer one
Added new questions for NTR players, (if you like the unexpected) it will trigger events that otherwise you could've avoided (like cheating behind your back and such) - it will take effect in the next version
Game Images