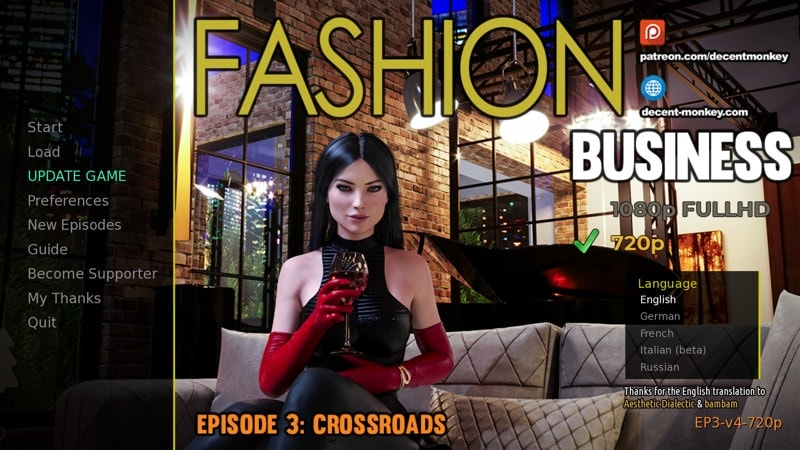 Information
Name: Fashion Business - Episode3
Fetishes: Female protagonist, Corruption, Blackmail, Oral sex, Masturbation, Rape, Sex toys, Stripping, Voyeurism, Spanking, Animated, Footjob, Lesbian, Titjob, Creampie, Vaginal sex
Version: 6
Censorship: No
Last updated: 6 September 2021
Language: English, Russian, German
Size: 3,45 GB 7Z
About game
Monica is a "Rich B*tch". Monica is the Boss. Most of all Monica adores authority and to control people and she manages with everything not in a sensitive or delicate way. If Monica was your Boss, you would be likely fired. For certain, everybody has ever met their own Monica! Take part in her luxurious life. Monica is sure that her existence is going to be always the same! What do you think? If suddenly you appear as witness of her falling down lower and lower in the social standing?
Changelog
This update includes 1772 new images and a lot of animations. I've also experimented how animations are presented in this update.

What's new:
VIP-Escort: Monica becomes the hotel's administrator. She can now distribute clients to the girls, fine the girls and hold staff meetings. (An extra scene during the meeting)
Julia: Monica doesn't help Julia around the house and doesn't chip in their shared budget. How will Julia react to that? (an extra scene)
Marcus: Monica continues to visit Marcus. To initiate this quest, load the appropriate save game or start a new game and choose the "Marcus' Training" plot line. (animated scene)
Falling path: Monica meets Misty and gets an interesting offer from her. Will Monica be able to get what she wants? (animated scene)
Falling path: Monica takes a walk around the park and meets the friends of Tim and Tom. What can this lead to? (big animated scene) (one more scene in the extra version)

Improvements:
A number of bugfixes.
Game Images