The Magissy: Reloaded - Version 0.2.2b 10$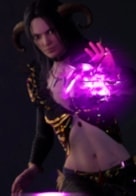 Information
Name: The Magissy: Reloaded
Fetishes: Male protagonist, Female protagonist, Fantasy, Adventure, Oral sex, Vaginal sex
Version: 0.2.2b 10$
Censorship: No
Last updated: 5 September 2021
Language: English
Size: 10,9 GB 7Z
About game
The action takes place in a fictional world. And there you will be able to take some exotic or fantasy companions with you. It's all up to you, so do everything you want in this exciting adult RPG. You will have an opportunity to become a charismatic adventurer who pays attention both to girls and to adventuring. Moreover, you will decide what to do with another defeated witch or a caught thief. The search for the mysterious crystal brings you to the picturesque island of Albae, floating in the clouds. This dangerous island is inhabited by various magical creatures. You will have to seduce the blacksmith's daughter with your exploits. And also defeat the insidious necromancer witch, who hides behind a magical barrier.
Changelog
v0.2.1b:
⁃ Added 2 sex cinematics for female protagonist & Viola
- Added hint for skipping phrases in dialogs
- Added button to the steam page inside of main menu and pause menu
⁃ Added merchant in the village
- Fixed wolfs rotation
- Fixed minor bugs in dialogues
- Stamina is now spent during a damage blocking stance
- Stamina is now spent 4 times more while running
- Enemies are rebalanced and more dangerous than before

v0.2.0b:
- Added Female protagonist
- Added Female protagonist voice over
- Added Female protagonist cloth set
- Added character selector after pressing "New Game" button
- Added quest tracker
- Added boobs physics in sex events
- Added free camera rotation by pressing "Q" button
- Fixed incorrect rotation in "Harem Mode"
- Quest tracking now works correctly after pressing the "Continue" button
- Nomads no longer slip into their camp
- Vix is now correctly giving out gloves for the female protagonist
- Breast physics now works correctly (but not yet for everyone)
- Fixed Selena's and Vix's nipples
- Fixed Selena and Vix battle rotation
- Fixed navigation on bridge near Din's tent
- Fixed falling under the floor in the "Harem Mode"
Game Images