Secret Care Cafe - Version 0.7.5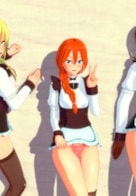 Information
Name: Secret Care Cafe
Fetishes: Male protagonist, Adventure, Animated, Big ass, Big tits, Oral sex, Teasing
Version: 0.7.5
Censorship: No
Last updated: 8 November 2021
Language: English
Size: 2,73 GB 7Z
About game
In the
Secret Care Cafe
you are the owner of the new cafe in town. But it's not your everyday cafe shop, this place has a
special care
program to make it's customers
really enjoy
their stay.
Everyday you will have to take care of customers as well as keep good relations with your coworkers to unlock special events. Here you can find cute or wholesome scenes and
lewd
animated scenes. Chose your own path with Cookie, Rai or Cynthia (or all 3 of them if you're lucky or none if you are not), and make sure to not get broke.
Random events that can trigger after day of work will make sure you will get different experience everyday.
Changelog
- 1 new bad ending from low cleanliness
- 1 new nsfw event with Cynthia and The Inspector
- shortcuts for the maids, skills, food and drinks on keyboard (0-3, q-u, a-j, z-v)
- reduced needed cleanliness to reset the bad ending counter
- now in GH favor will be reduced only after finished action with client
- now favor won't be reduced below 50 if you are secret lover with that person.
- fixed a bug that made warning event start after every load instead of once
- fixed a bug that under special conditions didn't start the sanitary warning event
- fixed a bug with wrong icon being displayed after seeing Media Producers Aftermath
- fixed a bug that allowed moving maids icon around while they were servicing in vip room or GH, that caused even more bugs
- fixed a bug that made game fade out even if Rich Boy's take out picture was shown
- fixed a bug that let favor go below 0
- fixed (hopefully) a bug that caused crash while generating some random events
- fixed (hopefully) a bug that caused crash while you went to stations with time stopped
- fixed a bug that doubled sound in some events in gallery after entering it from the Preparation Menu
Game Images