Secret Care Cafe - Version 0.8.15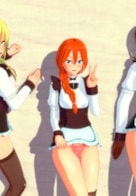 Information
Name: Secret Care Cafe
Fetishes: Male protagonist, Adventure, Animated, Big ass, Big tits, Oral sex, Teasing
Version: 0.8.15
Censorship: No
Last updated: 14 August 2023
Language: English
Size: 5,42 GB 7Z
About game
In the Secret Care Cafe you are the owner of the new cafe in town. But it's not your everyday cafe shop, this place has a special care program to make it's customers really enjoy their stay.

Everyday you will have to take care of customers as well as keep good relations with your coworkers to unlock special events. Here you can find cute or wholesome scenes and lewd animated scenes. Chose your own path with Cookie, Rai or Cynthia (or all 3 of them if you're lucky or none if you are not), and make sure to not get broke.

Random events that can trigger after day of work will make sure you will get different experience everyday.



Changelog
- added 3 new events, Ambers nsfw event, Emilia's event (tease) and Clint event
- added 2 new no-chat events for Cookie and Rai when there are no more events to see currently
- fixed Amber not having her cardigan in VN poses and slightly changed her poses
- bug fixed showing in GH gallery Ame's bunny suit when she was supposed to be in maid uniform
- bug fixed few other visual glitches in GH room
- bug fixed talking to Emilia worked only when you had no more actions avaliable in the day
- bug fixed Emilia not blinking in her overwork event
- bug fixed crashing while using Ame's GH perk upgrade button
- corrected few typos
Game Images