Manila Shaw: Blackmail's Obsession (Ren'Py) - Version 0.28b + compressed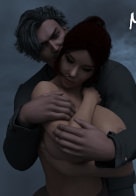 Information
Name
: Manila Shaw: Blackmail's Obsession
Fetishes
: Female protagonist, Big tits, Big ass, Corruption, Vaginal sex, Anal sex, Titjob, Masturbation, Rape, Oral sex, Interracial, Teasing, Group sex
Version
: 0.28b Ren'Py Remake + compressed - 
Download Android veriosn 0.28 from AdultAPK.com for free!
Censorship
: No
Last updated
: 28 May 2021
Language
: English
Size
: 4,60 GB 7Z
Size compressed
: 542 MB 7Z
About game
This unofficial port/version is not released by developer, download at your own risk!
The protagonist of my game is Manila Shaw, a policewoman who is respectful of the rules and very good at her job. She always has money problems and has struggling to pay the house rent. Manila's police action in a convenience store will attract a mysterious man's attention to her and this will change her life, throwing her into a world of corruption and deception...
Changelog
Added day 33
added gestures to android version
fixed start any day "corruption path to include Mason's quest
Game Images