Rise of the Crime Lord - Version 0.10 Extended + compressed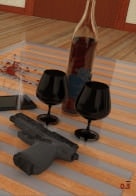 Information
Name: Rise of the Crime Lord
Fetishes: Male protagonist, MilfF, Titjob, Voyeurism, Anal sex, Oral sex, Group sex, Vaginal sex, Masturbation, Lesbian, Exhibitionism, Cheating, Handjob
Version: 0.10 Extended + compressed
Censorship: No
Last updated: 31 December 2021
Language: English
Size: 2,07 GB 7Z
Size compressed: 953 MB 7Z
About game
The protagonist of the game is Rick. He lives a simple, everyday life, but he has no pleasure in it. His marriage was broken, his boss constantly gets fucked with him, and his family was broken. Then, one day, thanks to unlucky circumstances, he goes into the net of sin and power. Powerful gangsters, cruel murderers, and corrupt policemen target him and his family. To survive, he must become a Crime Lord.




About compressed version

We used some strong tools, so quality of compressed files may be lower than the original. Also we used some webp codec and webm directshow filters you may have to download and install. We recommend to download full version to get 100% of game experience.



Changelog
- A half a chapter, but don't let that put you off, it's the same length as the previous chapters.
- 987 new pictures.
- 11 new animations
- Minor improvements and bugfix to previous chapters. 
Game Images