Midnight Paradise - Version 0.14 Elite + compressed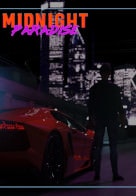 Information
Name
: Midnight Paradise
Fetishes
: Male protaganist, Corruption, Footjob, Groping, Incest, Milf, Big ass, Big tits, Exhibitionism, Handjob, Masturbation, Oral sex, School setting, Sex toys, Spanking, Titfuck, Vaginal sex
Version
: 0.14 Elite + Incest patch 
(patch.rpyc)
+ compressed - 
Download Android version 0.14 Elite from AdultAPK.com for free!
Censorship
: No
Last updated
: 18 April 2021
Language
: English
Size
: 2,81 GB 7Z
Size compressed: 311 MB 7Z
About game
Connor is spending his young adult life carelessly, having easy access to money and pleasure. However, after a failed year at college, his life starts to fall apart as he returns home to face the consequences and those he left behind 2 years ago. He's met with an ultimatum: rise up to the challenges and show he's capable or watch his future taken from him.
About compressed version
We used some strong tools, so quality of compressed files may be lower than the original. Also we used some 
webp codec
and 
webm directshow filters
you may have to download and install. 
We recommend to download full version to get 100% of game experience.
Changelog
This update focused heavily on advancing the main story and Celine.

- Added 11 new Main Story scenes including Joyce
- Added Celine's storyline with the following scenes
- Car ride
- Drinking
- Night (not like previous ones)
- Park
- Modeling
- H-Scene with multiple routes and options
- Added 1 Booty Call option for Isabel
- Added 1 Booty Call option for Ruby
- Added Extra scene with Joyce
- Added Extra scene with Sofia
- Added Elite scene with Joyce and Ruby
- Added 1 new character
- Added Harding Tower as a new location - it will become a big location in the future with a lot to explore
- Added 380 new images altogether (Elite release)
- Added 46 new animations

- Added an auto-forward button that can be turned on or off in the settings menu
- Added page number buttons to the gallery so it's easier to switch pages
- The game can now detect when its around Halloween or Christmas time and might show some holiday themed stuffs
- Added an option in the settings menu to disable the custom mouse cursor
- Fixed 102 typos, and future releases shouldn't have typos anymore
- Made a lot of UI improvements
- Increased the size of the old event trigger and booty call icons so they're more noticeable
- Lowered the volume of the main menu music so it's no longer super loud
Game Images