The Headmaster - Version 0.10.1 + Christmas Special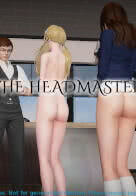 Information
Name: The Headmaster
Fetishes: Male protagonist, Animated, School setting, BDSM, Spanking, Corruption, Male domination, Sex toys, Vaginal sex, Anal sex, Handjob, Oral sex, Masturbation, Lesbian, Groping, Voyeurism
Version: 0.10.1 + compressed
Christmas Special
Censorship: No
Last updated: 10 April 2021
Language: English
Size: 3,36 GB 7Z
Size compressed
: 1,50 GB 7Z
Size Christmas Special
: 290 MB 7Z
About game
In the not too distant future, on a small island nation, a crisis has arisen. The number of students graduating from school has fallen sharply and university places are going unfilled. Faced with the prospect of mass unemployment and potential economic disaster the government is forced to introduce emergency measures. All students over eighteen who failed or were expelled from school are to be forced back into education at a number of special facilities.
About compressed version
We used some strong tools, so quality of compressed files may be lower than the original. Also we used some 
webp codec
and 
webm directshow filters
you may have to download and install. 
We recommend to download full version to get 100% of game experience.
Changelog
v0.10 Beta
Four new repeatable sports events
Four football practice events
New scenes for Lucy
Lucy will now clean naked
Lucy will offer extra services (currently spanking, dancing and kiss)
Double spanking for the twins from HM and Claire
Public punishment for the twins
Poolside punishment for the twins
A spanking scene for Samantha or Arabella
Sex scene with Amy in the girls' locker room
Threesome with Rachel and Debbie
Body searches for: Emily, Alice, Priti
You can unlock the cafeteria (just a placeholder there for now but unlocking it will trigger new scenes)
Two new students (Jasmine and Arabella)
New lunch lady (Patricia)
Game Images