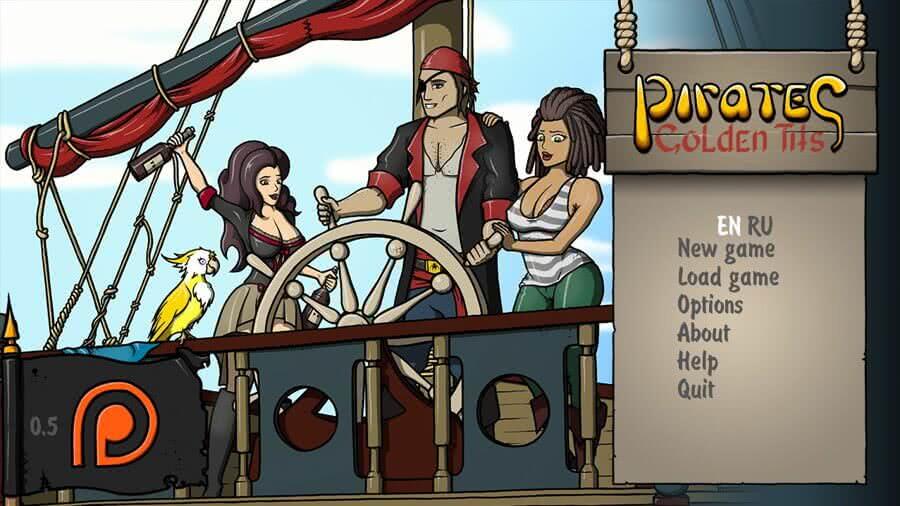 Information
About game
You get to control a young pirate captain, who has just acquired his first ship and who also has lots of adventures, treasures and wet girls awaiting him! Of course, everything you can do in the game has to be achieved, you have to learn to get those shiners! There a lot of ways to do that, actually, such as robbery, trading, fishing or even gambling. But don't get the wrong impression, it's not as easy as it might seem. You're not the only one out there. Be prepared to spend your precious gold not only on sexy girls, but also on upgrades for your ship, new ships and other ways to protect yourself and your riches. Also, don't forget you can hire not only bluejackets, but people with unique abilities and traits. And for some reason, they're all female (we have absolutely no idea why). So, if you can find the right way to approach them, they might make your day a little bit brighter. And that's not all that awaits you. So shake the dust off your tricorn and take the helm! Yo-ho-ho, and a bottle of rum! 



Changelog
Added a new quest with Scarlet (starts automatically after completing the story quest with the governor's wife (Need to sleep in the cabin))
Added 2 erotic scenes from Scarlet
Added a new 18+ scene with Scarlet
Added a new quest with Alice (you can open it after helping the shipbuilder Barry, just go to him the next day)
Added a new 18+ scene with Alice
Added fishing in the new port
Added a new location "Shopping street" in the new port
Added a new location "Bar - Minted coin"
Added trading opportunities in the new port with fisherman Johnny, merchant Julia and bartender Chucky.
Added two new fish, they can only be bought from John in the new port.
Added pictures to cards in battle.
Added two new enemies (Filibusters), they are slightly stronger than ordinary pirates.
Now, after completing the treasure quest, Alice is added to the boarding.
Each character has their own unique skill cards. (In the future it will be possible to unlock more)
During boarding, if you have a saber or pistol equipped, unique attack cards (captain cards) appear
When boarding, there are now 4 packs of opponents (1 pirate; 2 pirates; pirate filibuster; 2 filibuster) Be careful - 2 filibuster are quite strong.
Fixed a bug at the beginning of the game with a parrot when he did not say where Jaina
Fixed a bug when day quests in the new port started at night.
Fixed missing music in ports.
Fixed pop-up backgrounds (Those for which there were complaints); Added grout after sleep (Annoying background disappears after sleeping).
And much more.
Game Images