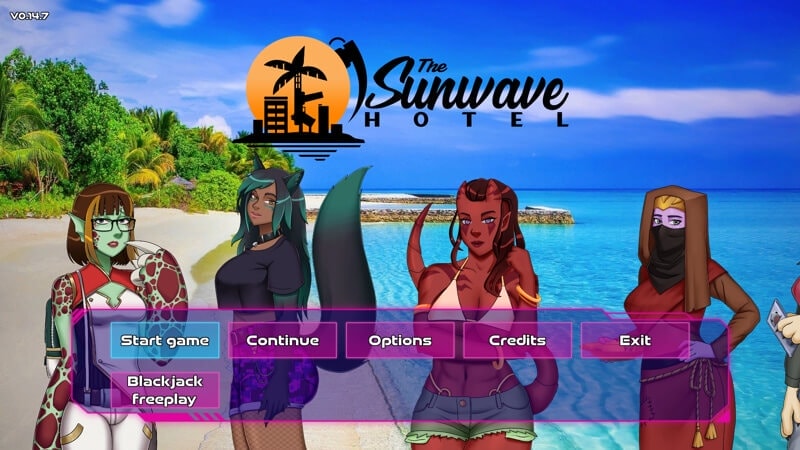 Information
Name: Sunwave Hotel
Fetishes: Male protagonist, Animated, Adventure, Monster girl, Sci-Fi, Handjob, Blowjob, Titjob, Masturbation, Vaginal sex, Anal sex, Lesbian, Voyeurism, Group sex, Sex toys, Big tits, Milf, Big ass, Creampie, Humor
Version: 14.9.5
Censorship: No
Last updated: 6 June 2023
Language: English
Size: 1,07 GB 7Z 
About game
In the game, you will be part of a mercenary duo who crash-landed on a tropical island. Employed by a crime lord of a Sci-Fi galaxy, you and your partner must get back on your feet and figure out a way to complete the job that brought you to the planet. Along the way, you'll solve problems and meet new friends and companions to help complete your mission. Naturally, on an island paradise, temptations, and corruption lurk around every corner. Will you stick to the path back to space, or will you linger and take in the sights and adventure of your tropical locale?
Changelog
Content:
Erotic Scenes - When the walkthrough is updated, it will include scene details for those that want to know exactly what is in each new scene.
Netali - Help the naval officer out and see if you can't have an unofficial liason.
Reina - The shrine maiden on Onakinii Island has special task for you. Prove your mettle to the Goddess.
Kaci - The spoiled girl is hanging out at a hotel on Onakinii. She's bored, and looking to explore.
Vynore - Alternative Pregnant/Dirty Talk scene with Vynroe for those into Impregnation Content
Kuhno - Scene 3 now has animations! Check it out in Gallery, page 2.
Story Events
Reclaim your loot from the Dream Master's hideout so that you can finish the original job.
Rise to the new challenges on the third and final island.
Galan is in trouble! Help Captain Netali stop a terrorist threat on Onakinii.
Meet with Reina the shrine maiden on island 2. Assis the big blue busty babe with her ritual and see if the two of you have a deeper connection.
Have a difficult conversation with Zatanka about what she wants out of your relationship.
Other Notes
Around 41 new amazing images for the erotic scenes.
Custom 2d Artwork new backgrounds as we begin exploring Okinar Island.
Nearly 18000 +Words have been added.
Game Images