Welcome To Hell - The Vampire Chronicles - Version 0.5.5 Gold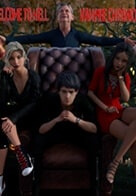 Information
About game
Life in the city of Hell is not easy, especially for one couple in particular. Everything they've known will change from this day on. Death has found them on that corner, and second chances comes with a great bloodlust. Some would say that death suited them very well! 



Changelog
*Season 2 teaser: added Renders(+22) - Animations (+1)
*Episode 1 is being remade and has been added Renders(+92) - Animations (+3)
New end credits video included.
Bug Fixes
V[0.5.5 Gold] This version contains a short post-credits scene showing a bit of what is to come in the next season.
Episode 1 is getting new static renderings and new animations, this work is being done slowly without causing delays in the development of new episodes.
Game Images