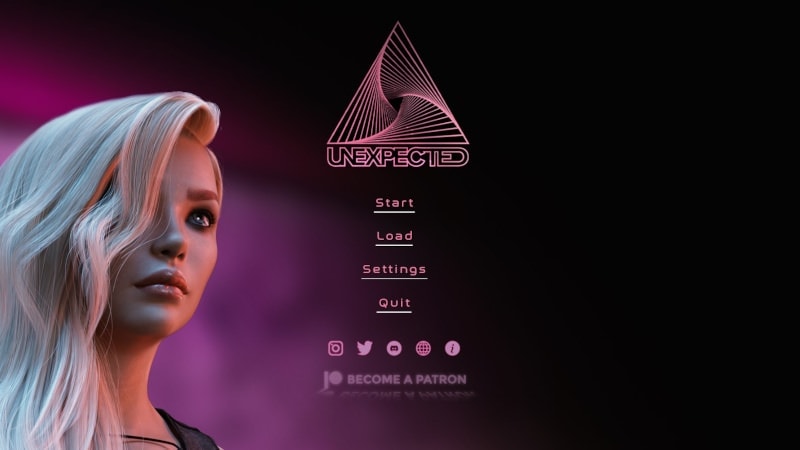 Information
Name: UNEXPECTED
Fetishes: Male protoganist, Vaginal sex, Big ass, Big tits, Cheating, Male domination, Female domination
Version: 0.1.1
Censorship: No
Last updated: 9 September 2021
Language: English
Size: 1,02 GB 7Z
About game
A wealthy and powerful businessman who plans to create a new order in the world gets betrayed by his son. After the betrayal, the young guy gets all the trouble on himself. Boy's rich life flies away. His secretary, who got the job a few months ago, wants to help the poor boy and provides him with whatever he needs. The young boy's life changes faster than he imagined. We will see if he is going to survive what'll happen. Will he get his old life back? Will he have consequences?
Changelog
~ Added v0.1.1 that includes:
- Fixed animation bugs in sex scenes with Shay.
- Fixed issues with music and sound effects shifting in scenes.
- All scenes were revised and problems such as over-brightening lights, shadows and reflections were fixed.
- After giving too much information at the very beginning of the game, arrangements were made and the first part became simpler.
- Unnecessary sentences on the script of the game have been removed. Short sentences were combined with the previous sentences and the game became more fluent.
- Added option to just help Shay. Thanks to this option, you only help, you do not encounter anything extra. In connection with this, the course of the scenario was adjusted.
- The sound problem of the disclaimer section at the opening of the game has been fixed. But the option is not added. Because during this process, the selection can be avoided by returning to the main menu.
Game Images