Lust Academy - Season 2 - Version 1.6.1d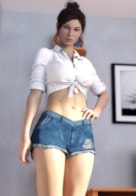 Information
Name
: Lust Academy
Fetishes
: Male protagonist, Animated, Milf, Big tits, Big ass, Oral sex, Titjob, Stripping, Voyeurism, Masturbation, Teasing, School setting, Humor, Romance
Version
: Season 1 - Version 0.7.1f -
Download Android version 0.7.1f from AdultAPK.com for free!
Censorship: No
Last updated: 5 November 2022
Language: English
Size S1: 1,45 GB 7Z
Size S2: 1,08 GB 7Z
About game
You play as a normal 18 y.o. the guy who's life is about to change forever! You'll find out about the whole world full of magic and adventure that awaits you at Cordale - the oldest academy of magic and wizardry in the New World. The most important thing: don't forget to get to know other students and teachers! We're sure you'll find most of them… charming!



Changelog
An enticing story told through 26 new scenes!
670 new beautiful renders!
21 new full HD 60fps animations!
5 new scenes at the Gallery
Sandbox mode of version 1.6.1 with free roam.
Improved sound design.
Rewritten and proofread dialogues.
Fixed an array of bugs.
Game Images